Quality and Safety Initiatives
Highest quality in the world
Quality and Safety Initiatives
Highest quality in the world
Based on the following basic policies, all employees work together to ensure quality and safety.
Quality Policy is:"We earn the trust and satisfaction of our customers with the world's highest quality."
Similarly, our Food Safety Policy:"We earn the trust and satisfaction of our customers with the world's highest quality with food safety as the priority."
Reliable Quality Assurance System
The basis for ensuring quality and safety lies in the awareness of each and individual employee. We hold safety meetings every week to raise awareness among all employees. Employees regularly participate in external seminars to keep track of recent knowledge and regulatory trends.
Research and Technology Development Division
We have a 80 years of history dealing with Alginate. Throughout this history, we have repeated immeasurable amounts of trials to meet various customers' requests. As a result, we have established a product offering system that satisfies customers through achieving a fine-tuned product design. This is achieved through an interactive customer service experience and years of knowledge to provide tailored and specific resolutions to customer queries.
Quality Control Division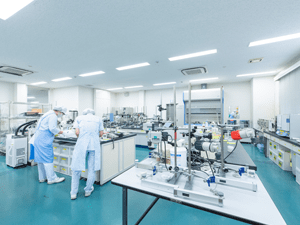 We perform a wide variety of tests every day that result in high accuracy. The Comprehensive Quality Control System is in place not only to test raw materials and products but also to vigorously conduct process inspections, and monitoring and measurement of the manufacturing environment.
Quality Assurance Division
We are listening to and reflecting on the customers' needs in our production and quality control. We make every effort to ensure quality in response to the changing circumstances of each day and focus on the latest regulations and trends in relevant industries such as food and pharmaceutical.
Quality of raw materials
In order to provide customers with the necessary confidence in our product, we are vigilant about managing the entire manufacturing process, from the onset of raw material procurement. For more than 30 years in Chile, we have been interacting with local seaweed suppliers. To obtain a stable, reliable, high-quality raw material, we deemed it necessary to get input directly from the local communities. Currently, we have invested in two local companies to procure quality seaweed using sustainable methods. We also collect information on materials other than seaweeds from suppliers as necessary, and we evaluate and select them based on appropriate standards.
Certifications
In support of the quality assurance system based on global standards, we have obtained the following certifications (for the detail, please refer to the(certification page)
●ISO9001: 2015, JIS Q 9001:2015 (Quality Management Systems)
●FSSC22000 (Food Safety Management Systems)
Our alginate product is also used as a pharmaceutical ingredient. Some of the manufacturing processes for this specific purpose are operated under the current GMPs (Good Manufacturing Practice).

We support Sustainable Development Goals (SDGs)
Hold weekly safety meetings with employees
Monitor and measure the manufacturing environment
Manage the entire manufacturing process, from the onset of raw material procurement