Message from the President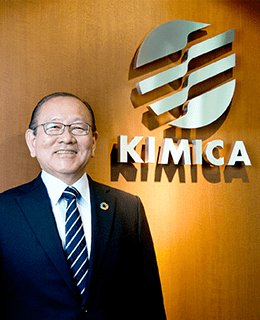 KIMICA, in 1941, was the first successful Japanese company to manufacture Alginate on a large-scale using the abundant gifts contained in the seaweeds of the world's oceans.
Over the next 70 years, we have worked tirelessly to improve our products, quality and stable supply responding quickly and flexibly to changing times and social needs.
And now Alginate is one of life's fundamental natural ingredients, utilized in so many ways.
With the demands and expectations for natural dietary fiber, sales in Alginate have grown due to the increased interest in global environmental issues, food safety, health and fitness.
As a leading company of marine biopolymers, KIMICA meets these demands and expectations and utilizes our established frameworks of the latest systems for production, stable supply and R&D.
Today, Alginate is used in foods, pharmaceuticals, cosmetics, textile printings and still has new and wide possibilities.
KIMICA continues to move forward, meeting our duty and in our social contribution.
Fumiyoshi Kasahara
President & CEO